If you're frustrated with the rising cost of employer sponsored health benefits and feel that your plan is not effectively addressing the needs of your workforce, you're not alone. Are you facing:
Increasing premiums that lead to reduced benefits or higher out-of-pocket costs passed on to employees?
Lack of engagement and appreciation for existing benefits among your team members?
Managing the administrative burden of managing employees, insurers, and providers when addressing cost and value transparency?
Fighting losing battles in attracting and retaining top talent based on a "grass is greener" benefits arms race?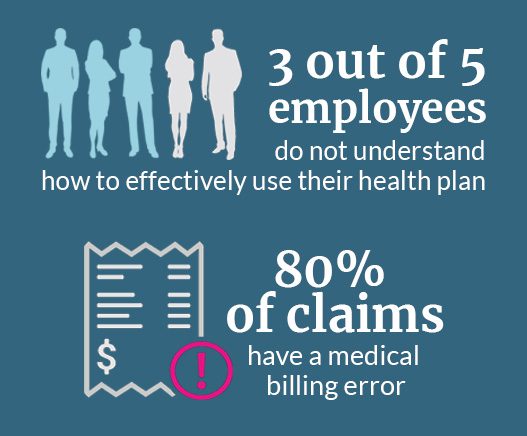 But you can

set your organization apart

by helping employees value the investment you're making in them and get more out of these valuable benefits!
How your organization

benefits with My Medical Navigator

 
When you take a simple, bold step with My Medical Navigator, you set the stage for enhancing your employees' satisfaction, lowering costs, and re-focusing valuable resources to grow your business.
Identify 15% claim savings opportunities in the first 90 days.
Maintain or reduce future premiums with lower medical expenditures.
Reinvest savings on current plans to offer additional tailored to your employee's needs.
Improve employee engagement and talent retention.
How your employees

benefit

with My Medical Navigator
Employees are thrilled to finally enjoy the hands-on help they need to fully understand and utilize their medical benefits.
Out-of-pocket expenses were reduced by an average of 30%.
Problems with claims are resolved in a fraction of the time compared to employees attempting to address on their own.
Allow employees to focus on healing not administrative headaches. Take a holistic approach to improving engagement with your EAP programs. Navigators will make warm handoffs to other benefits that are specific to your employee's well-being.